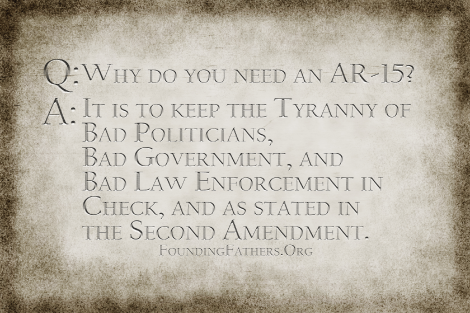 ---
Last Updated: Sunday, December 11, 2022 9:09 AM
Printable - Letter Size PDF
Printable - Tabloid Size PDF
Just like you see Checks and Balances between the three (3) forms of government: the Executive, Legislative, and Judicial branches, the Bill of Rights is a check and balance between the Government and The People.
Hence, an assault weapon, for example, an AR-15, is to keep the Tyranny of Bad Politicians, Bad Government, and Bad Law Enforcement in Check, thus as stated in the Second Amendment.
#1 - The Fuel 4 Hate
#2 - No God = NoAnswers... ChalkBoard Talk
#3 - Red States vs Blue States: How Gov't Statistics are Inaccurate

Tyranny of Bad Government and Bad Politicians looks like the following cities where crime and poverty are rampant for over 50 years while government (using taxpayers dollars) spend billions on trying to improve the quality of life with zero success overall and a continually declining population.


Baltimore, MD
Detroit, MI
Flint, MI
Chicago, IL
Washingon D.C.
San Francisco, CA
Oakland, CA
Cleveland, OH
St. Louis, MO
Stockton, CA
Nashville, TN
Yet, if you look at the suburbs around these same cities, you see prosperity, low crime rate, and much higher quality of life.


1 - America's 25 Worst Cities are Democrat-Led – The Answer, New Leaders - AMAC - The Association of Mature American Citizens

2 - Why Do Democrats Run All Of The Dangerous And Rodent Infested Cities?

3 - Democrat-Led Cities Top List as 'Worst-Run' Cities in America