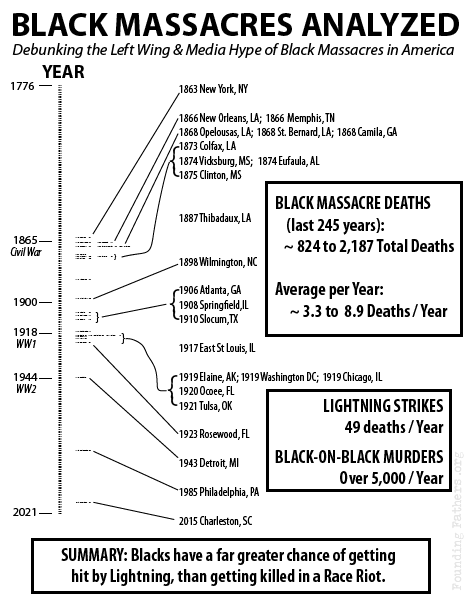 ---
Last Updated: Sunday, January 9, 2022 2:31 PM
PRINTABLE PDF 8.5 x 11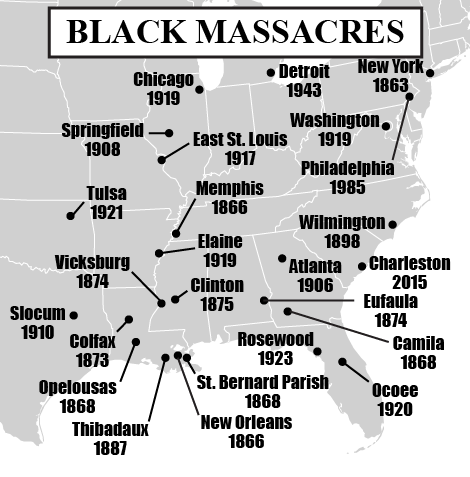 NOTE 1:
The riot/massacre in Tulsa, OK, in 1921 is disputed as it was only recently discovered 80 years later. The so-called "facts" appear to be easily forged newspaper articles with no corroborating news articles from other local or national newspapers at the same time. Even the events that started the riot are highly improbable, if not wild.

The Tulsa Riot appears to be more Hollywood History than actual history.

NOTE 2:
Many of the massacre death numbers can be inflated by the Left Wing and Media for purposes of TV ratings and other financial incentives. e.g., White Guilt Donations and Grants.
ALL ABOUT THE MONEY
"There is another class of coloured people who make a business of keeping the troubles, the wrongs, and the hardships of the Negro race before the public.

Having learned that they are able to make a living out of their troubles, they have grown into the settled habit of advertising their wrongs — partly because they want sympathy and partly because it pays.

Some of these people do not want the Negro to lose his grievances, because they do not want to lose their jobs."

- Booker T. Washington
Microsoft Excell Spreadsheet of Data - Black Massacres
---
1 -1921 Tulsa Massacre WAS A BIG LIE - YouTube

2 -The Intellectuals and the Boston Mob - Teaching American History

3 -Quote by Booker T. Washington - Liberty Quotes

4 -Quote by Booker T. Washington: "There is another class of coloured people who m..."