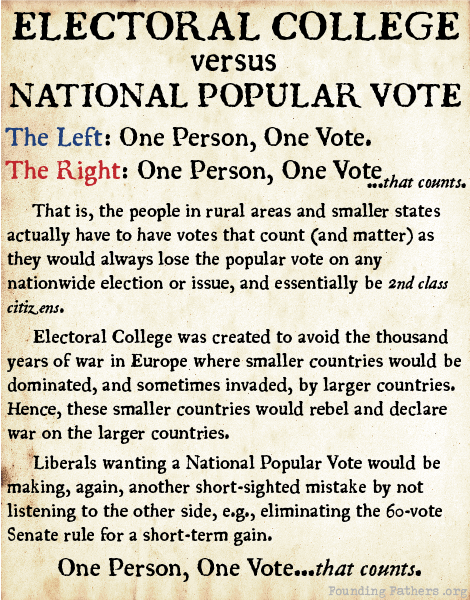 ---
Last Updated: Sunday, December 11, 2022 9:21 AM
Printable - Letter Size (8.5in x 11in) PDF
THE LITTLE GUY VOTE in SMALL TOWN AMERICA
In 2016, a total of 128.7M votes were cast. The difference between Trump and Hillary was 2.9M votes. So, that works out to be 2.2% vote difference. And that type of tiny difference only mattered in probably 5 elections out of 58 presidential elections. But for 2016 that vote difference came a lot from just 2 cities, Los Angeles and New York City. Of which there are lots of illegals.

And so much so, those states have made efforts to give illegals, driver licenses. So Hillary perhaps didn't win by that much as there are a lot illegals with driver licenses and also illegally collecting social security. Hence, let's say that the vote is almost even.
Yet, let's look at Wyoming. That state has to got have some say in how America is run and who the president is. So at 3 electoral votes divided by 535 total electoral votes, that is like 0.5% of the total electoral vote percentage wise.
So those pushing for a national popular vote is basically denying small states like Wyoming to have almost no say in how America is run.
To already to drop from 0.5% to 0.0% shows you how much Democrats and the National Popular Vote movement care about the little guy in small town America.
BIG STATES vs SMALL TOWN AMERICA
If you think about it. The compromise made back around 1776 was not necessarility between Big States and Small States, It was between Big populations versus Small Populations. Between the city versus the rural country.

And now with the national popular vote, it's really between the big city versus small town America.

Hence, small town cities in states like Wyoming need to have some say in how America is run.
HOW THE LEFT MISLEADS THE PUBLIC ON ELECTORAL COLLEGE
Below in the references section are several editorials and op-ed's on how unfair the Electoral College is and how small states like Wyoming get way too much voting power. However, with every analysis, it's only about the Senate and voters per Senate seat. These op-ed's and opinion pieces consider the House of Representatives and its electors "irrelevant".


It you take away the Senate electors, Wyoming only gets 1 elector and California gets 53 electors. This as opposed to what is now, 3 for Wyoming and 55 for California.
CALIFORNIA DRIVER LICENSES FOR ILLEGALS MEANS ILLEGALS VOTING:
If there were no illegals in America, why did California (and also New York), give illegals driver's licenses?

Hence, certain big states, like CA and NY are padding their voting numbers with illegal votes and even fast tracking ex-cons into voting.
CALIFORNIA SANCTUARY CITIES = ILLEGAL VOTERS
California's policy for "Sanctuary" Cities for Illegals also means Illegals who are voting..illegally.
REFERENCES
1 - Population vs. Electoral Votes - Fairvote.

2 - Voters In Wyoming Have 3.6 Times The Voting Power That I Have. It's Time To End The Electoral College. | HuffPost

3 - How fair is Electoral College? - Washington Post

4 - The Electoral College Is Actually Worse Than You Think—Here's Why | Observer