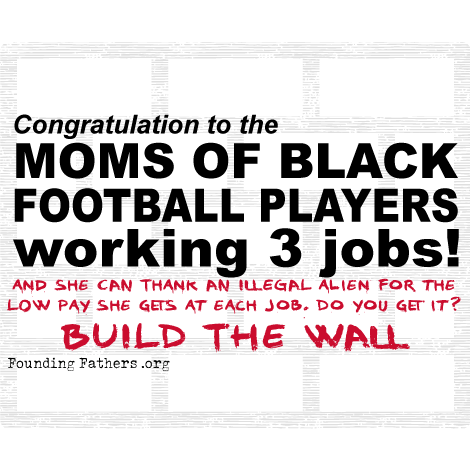 ---
Last Updated: Saturday, November 28, 2020 1:22 PM
If Blacks don't want to do the Jobs that Illegals do, why do you hear stories on TV about Blacks Moms working 3-4 jobs to put food on the table while their son was practicing for football or basketball?
Those who say that a border wall doesn't matter want it both ways.
First, The Left says a wall doesn't matter with regards to the economy, then they, the Left, do a 180 and complain that Black moms have to work 3 jobs.



So Blacks don't like those $7.25/hr minimum wage jobs, correct?
So how can Blacks say they don't want the jobs Illegals do, but turn around and demand $15/hr for that very same job that Illegals do, do?

If you had a Wall, don't you think Blacks could bargain for an hourly pay rate far better than the minimum wage job? The answer is Yes, you can.
Even the lowest paying jobs give you more experience than being a porch monkey with no job.

Hence, that Hispanic worker is going to be able to get the higher paying jobs over Blacks as that job that Blacks don't want to do given that Hispanic worker basic skills, experience, networking and upward mobility.

Basically, Blacks have their head up in the sky, when in fact 50% of the Black Males in the inner cities are Illiterate and most definitely can't even Add, Subtract or Multiple, have very poor Basic Math skills
The Jobs Blacks don't want to do are the Jobs needed to get the Higher Paying Jobs that Blacks think they are entitled to, but won't as they don't have the skills and experience.
ADDENDUM:

Extra Gun laws and gun violence programs in Democratic cities like Chicago, Oakland, Compton, Watts, Detroit, Washington D.C., New Orleans, Baltimore, Flint, MI, and so on, has never increased the pay rate for Blacks, or anyone else for that matter.
You could have no violence, but if illegals under-bid the Blacks for the jobs, Blacks would still get the short end of the stick.