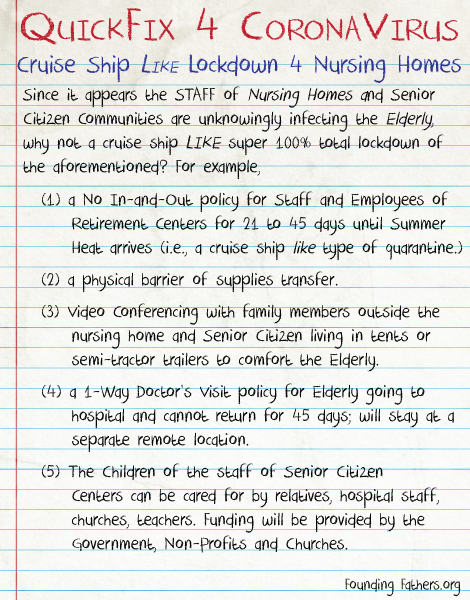 ---
Last Updated: Tuesday, March 17, 2020 9:02 AM
* * * note: rapidly changing info due to national emergency * * *
An ounce of prevention is worth a pound of cure.
- Benjamin Franklin
UPDATE!
- Looks like many are listening, including the CDC,
to the Quick Fix
'Go home!': Mel Brooks and son Max share a comedic PSA on the coronavirus. - YouTube
LOGISTIC AND FINANCING NOTES:
Because it's now a National Emergency, perhaps Federal funds can be used to support the Nursing Home and Senior Citizen staff and workers who will be locked in.

The Government, Hospitals, Relatives, Churches, Teachers, and so on can look after the children of the Nursing Home staff and workers.

Since it is only 30 to 60 days, The Cruise Ship Lockdown for the staff and workers of Nursing Homes and Senior Citizen Living would be doable.
STAFF WORKERS WITH SMALL CHILDREN
If certain staff workers cannot handle being away from their children, a separate area inside the retirement facility can made for these small children.
HARD HIT INDUSTRIES = HELPING HANDS?
Maybe those in hard hit industries like the Airline, Cruise Ship, Tourism and Big Events can help the staff and employees who are in lockdown in nursing homes and senior citizen centers?

Cruise Ship staff and supervisors can direct, schedule and coordinate logistics and shifts for these nursing homes and retirement communities.
ONE-WAY DOCTOR'S APPOINTMENTS
If a sick elderly has to go to the doctor, they CANNOT come back inside the senior citizen center or nursing home for 90 days.

One Way Only until the Summer is here and this virus passes.
There needs to be an post doctor visit area after going to the doctor and that too needs limited access.
ELLIS ISLAND TYPE QUARANTINE
FOR RETIREMENT CENTERS
TWITTER 1200 x 750
TWITTER 600 x 375
REFERENCES
1 - Washington state nursing home sees nearly 50 employees test positive for coronavirus | Fox News

2 - New Orleans retirement community up to 8 cases of COVID-19; on-site testing begins


3 - Finally, Some Good News: Warm Weather Shown to Slow Coronavirus Spread


4 - Coronavirus UK: Boris to impose FOUR-MONTH quarantine for elderly under 'wartime' measures | UK | News | Express.co.uk


5 - 'Go home!': Mel Brooks and son Max share a comedic PSA on the coronavirus. - YouTube