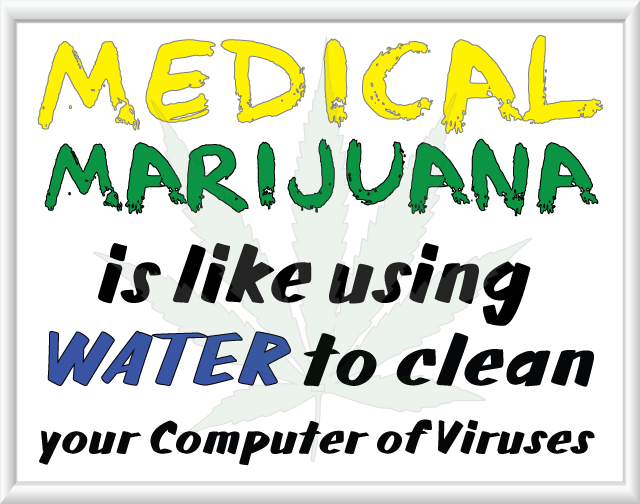 ---
Last Updated: Saturday, November 28, 2020 10:14 AM
To reduce the pain of Cancer, Marijuana basically damages your brain cell receptors so you feel less pain. This is like twisting your ankle and then (to reduce the pain) you literally bang your head against the wall so you end up saying,


"Well, my head hurts so much, I can't feel anything including my swollen ankle."
To highlight how marijuana affects the brain and how its neurons communicate, it's like having your computer make a beeping sound (seizure), and, in order to stop the beeping sound, you spray a water mist (marijuana) on the motherboard (your brain) to clean it of viruses.

Sure it might stop the beeping sound, but funny and weird messages pop up on the screen, your memory becomes more and more corrupted, and your keyboard & mouse are erratic and slower.

And if you keep spraying a water mist (smoking weed), your computer displays even more funny messages (ie Hearing Voices in your head) as even more memory is corrupted, and the keyboard & mouse barely move (reduce seizures).
If you ever ask why Pot Heads miss work all the time. Well, if your head hurt as much as Pot Heads do (eg crash / burnout), you would miss work as well.